April 10, 2017
2016-2017 SEASON WRAP UP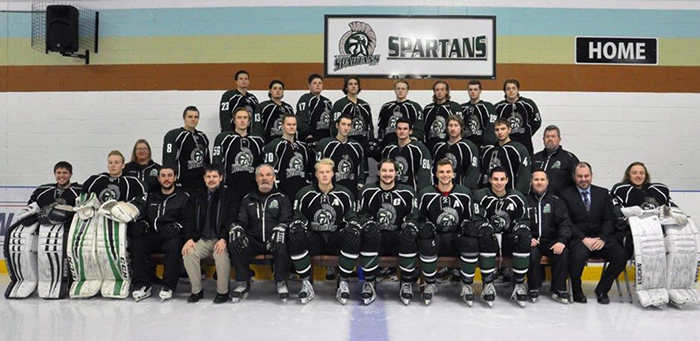 The 2016-2017 Almaguin Spartans were a tremendous group of young men that made so many gains as a group and individuals over the past 6 months. Even though this group did not achieve it's final goal of winning a league championship, it still has a lot to be proud, The Spartans finished with a 24-15-2 record in the regular season and came within one shot in a shootout of advancing to the 2nd round. This group could of easily been preparing for it's 2nd round opponent right now, but unfortunately things did not workout that way. First off we wanted to highlight some of the achievements from this group
-Franchise Record 10 Game Winning Streak
-Bryan Austin GMHL Defensemen of the Month "November"
-Kristaps Nazarovs GMHL Goaltender of the Month "December"
-GMHL Showcase Selections – Bryan Austin, Mark Moon, Tom Stanislavski, Felix Morin, Aron Knutsson and Mikelis Pavelsons
-GMHL All Star Selections- Felix Morin and Mikelis Pavelsons
-GMHL Most Sportsmanlike Player Award Winner -Tom Stanislavski
-GMHL Top Defensive Forward Runner up – Tom Stanislavski
-GMHL Top Defensemen Runner Up – Bryan Austin
-GMHL Coach of The Year Runner Up – Myles Pepin
These are just a few of the highlights from this great group this year, Off the ice this group of young men was very active in the community, which is a major benefit to the Almaguin area. These young men have been great role models for youth in the community and have made a major impact on many of them. Many of these kids will never forget some of these moments with the Spartans. This is truly the best thing to see in the opinion of our staff. Every year when we are recruiting players we tell them, you will be part of a family and community when you come here, and I know with speaking with many of these young men they will definitely remember the impact this community had on them. We also tell these potential players and parents that we will develop you into a better hockey player and better person, and we truly think we have achieved this with ever player in that dressing room. In that dressing room is a lot of great players, but we can tell you they are also a group of great people.
From the Almaguin Spartans ownership group we would just like to take this time to thank the community for it's support. Without support from sponsors, volunteers, fans and billets we would not be able reach this level of success. You have been a major part of the success of this hockey club and allow us to attract great hockey players and great young men each season.We are very lucky to have such a strong junior hockey program in our small community, which is a result of a solid ownership, highly skilled and dedicated staff and very passionate and caring community. The support that you show these young men at home and road games is unbelievable. We have the best group of fans in the league, and that's not just the Spartans saying that, that is the opinion of many opposing teams.Thanks for your support, we could not do it without you.
We can assure that come next September we will have another great group of 25 young men for you to cheer on every Friday Night. The recruiting process has already begun, so stayed tuned in April and May as we start announcing many returning players and some tremendous new additions. We would also like to take this opportunity to thank our staff (Gary Coalter, Myles Pepin, David Forde, Andrew Torrance, Andre Lapierre, John Thompson and Sally Hitchcock), all of our billets, game day staff/volunteers, the South River Machar Fire Department and the arena staff for the countless hours that have been put in over the past 6 months with this group.
Thanks Almaguin for the 2016-2017!!! Can't Wait to See Everyone in September