Aug 10, 2017
CCHL2 MVP & LEADING SCORER SIGNS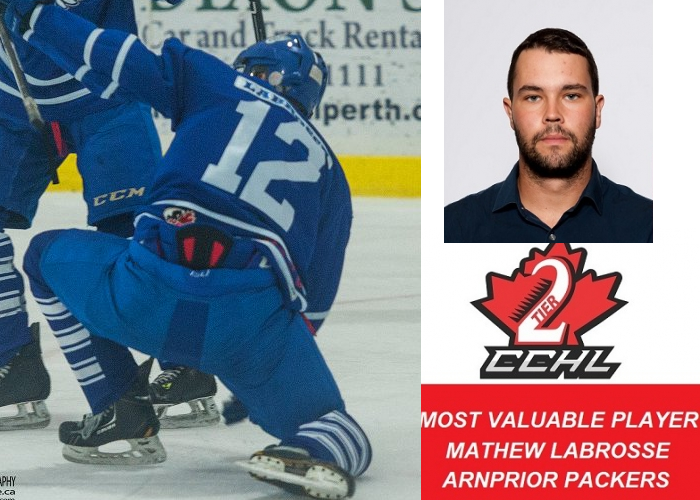 The Spartans are thrilled to announce the addition of skilled power forward Mathew Labrosse from Gatineau, Quebec.
Matt led the Arnpior Packers and the entire CCHL2 in scoring last season with 42 goals and 66 assists for 108 points in only 47 games. His offensive achievements also earned him league MVP honors.
Spartans Head Coach Myles Pepin had this to say about the addition of Matt: "adding a player with Matt's experience and scoring ability to our roster is incredible. He's a big forward at 6'2 190 pounds that creates a lot of space for himself with his size, speed and hockey IQ. He is great off the rush, on the power play and has a pro level shot. Matt has put up great offensive numbers his entire junior career and had a huge season offensively last year with Arnprior. We will be giving Matt every opportunity here this season to try and do the same. We are confident Matt will be able to produce the kind of offense our club was missing to push us over the top last season and having Matt in our line up is just going to make guys like Whitehead, Hannaford, Sbop and Kjellgren more effective due to Matt's ability to create offense. We are expecting to add one more elite level forward to our line up before we open the season which will really round out our forward group and make us a tough team match up against."
Also, in meeting with Matt personally, General Manager David Forde and I are very confident that Matt will be a great fit for our program off the ice as well. He's a mature, hard working and driven young man that will be a great influence on our younger players. Matt is a player that our fans are going to love to watch every night "
Welcome #17 Mathew Labrosse!!!