Nov 27, 2017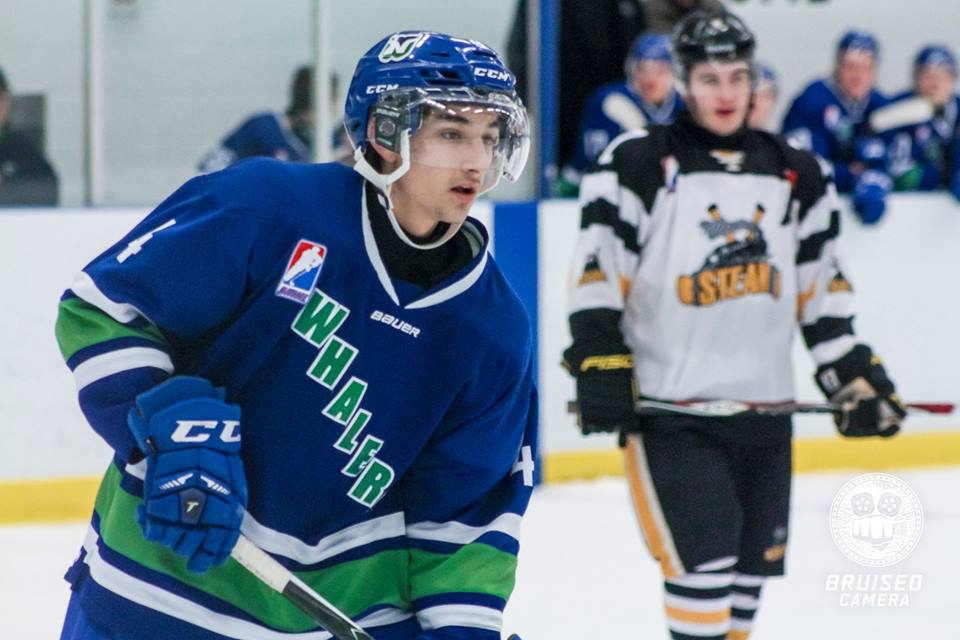 David Christpher Tearing Up Tillsonburg
In the fourth place Niagara Whalers hit the ice on November 24th on the road in Tillsonburg, Ontario against the ninth place Tillsonburg Hurricanes in Greater Metro Hockey League regular season action.
13 seconds into the game, Tillsonburg's Luke Fraser fires the opening goal with Casey Vanderveeken and Griffin Sinden drawing the contributors on Fraser's goal. Sinking his second of the contest at 5:27 of the period to give the Hurricanes a 2 – 0 lead with Devin Laird and Vanderveeken adding the contributors on Tillsonburg's second of the game. With 5:32 remaining in the first, Maxism Korobeinikov increases the lead to 3 – 0 on a Hurricane power play with Fraser and Griffin notching the assists. Patrick Desjardin pulls the Whalers within two at 11:58 of the second with Jake Lloyd and David Christopher setting up Desjardins' goal. With Niagara shorthanded 15:18 into the period Lloyd fires a pass to David Christopher to close the gap to one. Fraser registers a hat trick for the Hurricanes with 59 seconds left in the period to give Tillsonburg a two goal cushion. Dallas Routh and Korobeinikov drew the helpers on power play goal. David Christopher sinks the Whalers third at 19:45 of the second with an assist from Patrick Desjardin to send the Whalers into the second intermission down by two.
Ethan Spaxman brings the visitors within one 4:32 into the third with Erik Johansson and Jesse Masterson adding the contributors. Fraser fires his fourth of the game to give the Hurricanes a two goal lead at 6:28. Sinden and Korobeinikov set up Fraser's shorthanded marker. David Christopher registers his fourth point on the game on Spaxman's second of the game at the 6:28 mark of the period. 46 seconds before the halfway mark of the third, Desjardins and Lloyd notched the assists on Christopher's goal. Whaler Jake Lloyd at 11:30 of the period with John Swiatek and Christopher setting up Lloyd's goal to bring the game to 7 – 5. Giving the visitors their first lead of the game, Lloyd finds the back of the Hurricanes net 12:16 into the third with Christopher and Swiatek adding the helpers. With 7:09 remaining in the game, Spaxman registers a hat trick to give Niagara a 9 – 5 win over Tillsonburg. Daniel Pugliese and Kellan Rosenbaum drew the assists on Spaxman's third of the game. Whaler goaltender Will Harvey made 30 saves in Niagara's win on the road on Friday evening.
The Kingsville Kings will be the next opponents for the Whalers on December 1st at the Vale Centre in Port Colborne, Ontario in a 7:30 p.m GMHL puck drop.