Oct 11, 2017
WHALERS DUMP RAVENS 8:1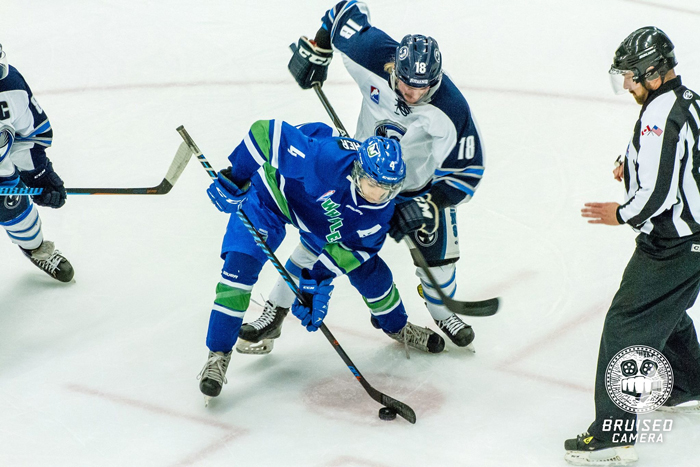 After a 13 – 1 win over the London Lakers seven days earlier in Port Colborne, Ontario on September 30th, the Niagara Whalers returned to action on October 6th against the St George Ravens in Greater Metro Hockey League action at the Vale Centre in Port Colborne.
With the Whalers shorthanded, David Christopher sank the first goal for Niagara 5:38 into the opening period with Nick Pastorious and Patrick Desjardin adding the helpers on Christopher's goal. 44 seconds before the halfway mark of the first, Lucas Pozzebon sends a pass to Sheldon Nunes to even the game 1 – 1 at the 9:16 mark of the period for the Ravens. Newly acquired Brandon Lindberg scores his first a Niagara jersey at 11:21 of the middle stanza to give the Whalers a 2 – 1 lead with Zach Main and Jakob Reeves adding the assists on Lindberg's goal. At 18:05 of the second, Desjardins and Jesse Masterson set up Jakob Reeves to give the hosts a 3 – 1 lead. Reeves and Lindberg register the contributors on the Whalers fourth of the game when Main finds the back of St George's net 37 seconds later.
Niagara's Christopher sends a pass at 19:19 of the period to Whaler John Swiatek to bring the lead to 5 – 1. With two seconds left in the period, Christopher sends the hosts into the second intermission up 6 – 1 with his second of the contest. Justin Graham and Pastorious drew the helpers on Christopher's power play goal. Goaltender Will Harvey and Kellan Rosenbaum contributed the assists on Frolov Mikhail's goal at 8:34 of the third to increase the lead to 7 – 1. At 9:34 of the final period, Jakob Reeves fires the Whalers final goal of the game to give Niagara an 8 – 1 win over the Ravens. Desjardins and Masterson had the assists on Reeves power play goal.
Next up for the Whalers will be on October 13th when the London Lakers return to Port Colborne for a 7:30 p.m GMHL start.