In-Residence Youth Superskills Summer Camp
---
Atom, Pee Wee and Bantam (Ages 9 - 14)
For over a decade, the World Hockey Centre has been teaching this wonderful game to players of all ages and skill-levels in many different programs. Since then, we have seen our camps and the facility itself, blossom into the premier skill-development program in North America. Our philosophy is simple: provide a positive, professional environment; top quality professional instruction; lots of ice-time with a focus on individual skill; professional strength and conditioning coaches for dryland training; and a serious commitment to helping players progress to higher levels of the game. This program is designed for those players who truly understand the commitment required to get a step ahead of the competition. The World Hockey Centre has been very successful helping players achieve their goals, and we can help you.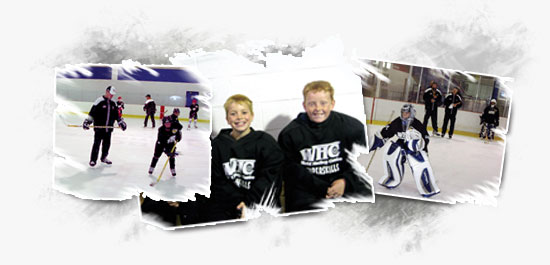 Johan Lundskog - Head Instructor

WHC Director of Hockey Operations
Jr 'A' Head Coach
SPHL Florida Seals
TV-Pucken

John Duco - Head Instructor

Jr 'A' Head Coach
Oswego State College NCAA
Stoufille Spirit OPJHL

Chris Beckford-Tseu - Goalie Instructor

in association with PGD Toronto

St. Louis Blues NHL
Peoria Rivermen AHL
Oshawa Generals OHL
The Training
---
Skill development and conditioning are the essential elements of our training program. Endurance, quickness and agility are all finely tuned on the ice, while weight training, conditioning and off-ice shooting are a part of our dryland training. Off-ice, players will make use of our obstacle course, ball hockey court, outdoor shooting lanes, weight room and spin bikes.
2012 Celebrity Instructors:
---
| | |
| --- | --- |
| Mike Duco | Vancouver Canucks - NHL |
| Chris Stewart | St. Louis Blues - NHL |
| Kevin Henderson | Milwaukee Admirals - AHL |
| Todd Miller | Barrie Colts - OHL |
| Chris Beckford-Tseu | St. Louis Blues - NHL |
| Al Sims | Ft Wayne Komets - CHL |
| TJ Manastersky | Fredonia State University - NCAA D3 |
| Lou Santini | Sacred Heart University - NCAA D1 |
At least 1 instructor for every 6 players. All other program instructors are either experienced Jr players, NCAA players, Pro players, College coaches or professional coaches.
Fun @ WHC
---
If you are serious about your skill development, you already know off-season training is essential to your progression as a hockey player. That doesn't mean you can't work hard and have fun at the same time.
Players staying for multiple weeks have the option to go on field trips* to help break up the demanding training schedule during the week. Favourite WHC field trips include popular destinations like the Hockey Hall of Fame, Wasaga Beach, and Blue Jay Stadium.

*not included in the cost of the program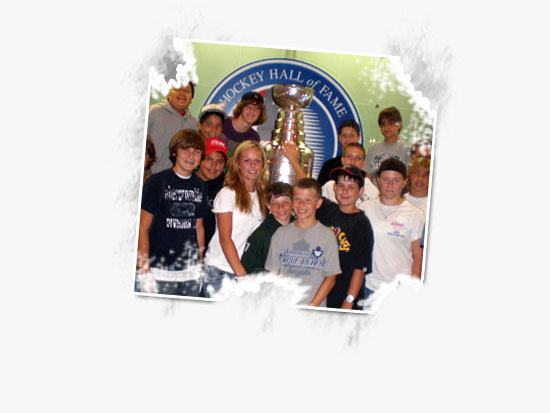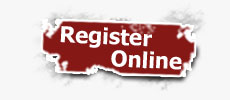 Dates:
• July 1 - July 7
• July 8 - July 14
• July 15 - July 21
• July 22 - July 28
• July 29 - August 4
• August 5 - August 11
• August 12 - August 18
• August 19 - August 25
• August 26 - September 1
$799 CDN
per week (+HST)
Price includes:
• Ice time
• Dryland training
• Strength conditioning
• Off-ice shooting
• WHC jersey and socks
• Room and board (meals included)
Players receive:
• 1.5 hours of ice time per day
• 1 hour officiated game per day
• 2 hours of dryland training per day
Goalies receive:
• 1.5 hours of ice time per day
• 1 hour of goalie specific training per day
• 1 hour officiated game per day
• 2 hours of dryland training per day
Additional ice time may be available and everyone has full access to the WHC training facility.
---
Click HERE for a list of items we recommend bringing this summer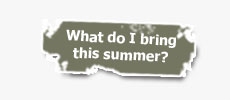 ---
Typical Daily Schedule:
| | |
| --- | --- |
| 7:00 am | Wake up |
| 7:15 am | Breakfast |
| 8:00 am | Bus to rink |
| 9:00 am | On ice |
| 10:30 am | Dryland training |
| 11:30 am | Lunch |
| 12:30 pm | On ice |
| 2:00 pm | Bus to WHC |
| 3:00 pm | Dryland training |
| 4:00 pm | Free time |
| 5:00 pm | Dinner |
| 6:00 pm | Outdoor activities |
| 8:00 pm | Team building activities |
| 10:00 pm | Lights out |
---